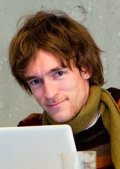 Born 1979 in the Netherlands, studied philosophy, now juggling interests in poetry, philosophy, resistance, writing novels , distant shores, sustainable living, permaculture, community building, in no particular order.
What is my way of life? Think abundant creativity. Think loving, caring participation in nature. Think strong, gentle loving bonds. Think the exact opposite of consumer culture.
* * *
If you like to write a guest post and have something that fits in one of the categories, don't hesitate!