Reading: Dead Animals by John Hollander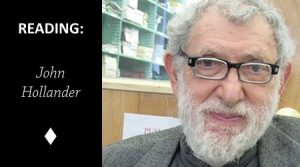 The American poet John borrow online. Some say that his poems lack personal engagement, that the emotion is never the author's (which, following Eliot, it shouldn't be). Here I read a short verse that gives you some impression of Hollander's craft:
Dead Animals
Granted, then, that the punishment, -Whether appropriate or not-for that One tiny
...