… and didn't lose my nerves.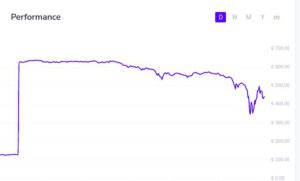 Honestly, it was not fear of missing out that inspired me to invest in altcoins. I want the protocols that require exponentially less energy than Bitcoin's Proof of Work to thrive. Empowering a global, decentralized, nimble banking platform is a prerequisite for speeding up many other necessary changes as it will make everything more accessible to the previously unbanked.
That is the story of one of the altcoins I acquired: omiseGo that is backed by a Thailand-based company that aspires to make financial transactions easier around South-East Asia.
My "DYOR" consisted in reading this article about "green altcoins" and searching the individual coins. I also read some of Binance's excellent cryptocurrency lessons.
At any rate, any and all of the proposed improvements to Proof of Work (PoS, DPoS) will mean a significant gain in efficiency (and make the word of the metaphor "ecosystem" for a computer network buzzing to transmit value tokens slightly less bizarre).
NFT's
The hype du jour is non-fungible tokens, i.e. tokens with an intrinsic value, such as a digital artwork or a smart contract. Jack Dorsey of Twitter notoriously "minted" his very first tweet from 2006 – and the selling price of $ 2.9M said a lot about how much some people want to "own" a piece of digital real estate or Internet history. Maybe my next move is minting what I tweeted today, as cryptomarkets came tumbling down:
we are like LOADING UP on #XLM !!!
Shillin' ain't killin' 🙂 🙂 😛
woof woof!

— Kamiel "inoculate" Choi (@kamiel79) May 19, 2021
HODL
The best thing you can do during a crypto crash is hold on to your coins and take a walk. If you didn't invest in anything dodgy (or dogey?), the experience of the last years* has shown us that they will bounce back. Actually, at the time of writing the cryptomarkets had already recovered.
* This is by no means financial advice